Poha is made using flat rice flakes, green chilly, peanuts, spices etc.
Poha is healthy and nutritious dish usually eaten in the morning for breakfast and it can be made quickly with simple ingredients.
In this recipe we have added Aloo bhujia and chana dal to make our poha more tasty and to give it a unique tasty flavour.
Poha Chivda Ingredients
2 cup Poha
1 tbsp Mustard seeds
1 tbsp Jeera
½ cup Peanuts
¼ cup Aloo bhujia (optional)
¼ cup chana dal (roasted)
1 teaspoon Hing
3-4 tbsp of oil
6-7 curry leaves
Salt as per taste
1 teaspoon sugar
7-8 garlic cloves
2 medium size green chilly chopped
1 teaspoon Turmeric powder
---
Preparing Poha Chivda
Turn on the gas flame to medium low flame and place a pan/utensil over it.
Heat the pan/utensil and once it is nicely heated then add oil.
Let the oil heat up for a minute, then start adding the ingredients.
First add in the garlic.
Then add the mustard seeds, jeera and green chilies .
Now turn the gas flame to low and stir all the ingredients in the oil.
Next add curry leaves and hing.
Now mix the curry leaves and hing with all the other ingredients.
Once all the ingredients are nicely fried in the oil,add in the peanuts and stir it well.
Once the peanuts are nicely roasted, add the chana dal and aloo bhujia. (This is optional).
Now again mix all the ingredients for a minute.
Lastly add the turmeric powder and again mix it well with all the ingredients.
Once the turmeric is well mixed , add in the poha.
Now add in the salt and sugar and mix it nicely with all the other ingredients.
Make sure that all the ingredients are nicely mixed with each other.
Let it cook for 2 minutes. (Note: Make sure that the entire cooking process is done on medium low heat flame)
After2 minutes, switch off the gas.
Our Poha Chivda is ready to serve.
This Poha Chivda can be preserved for a week.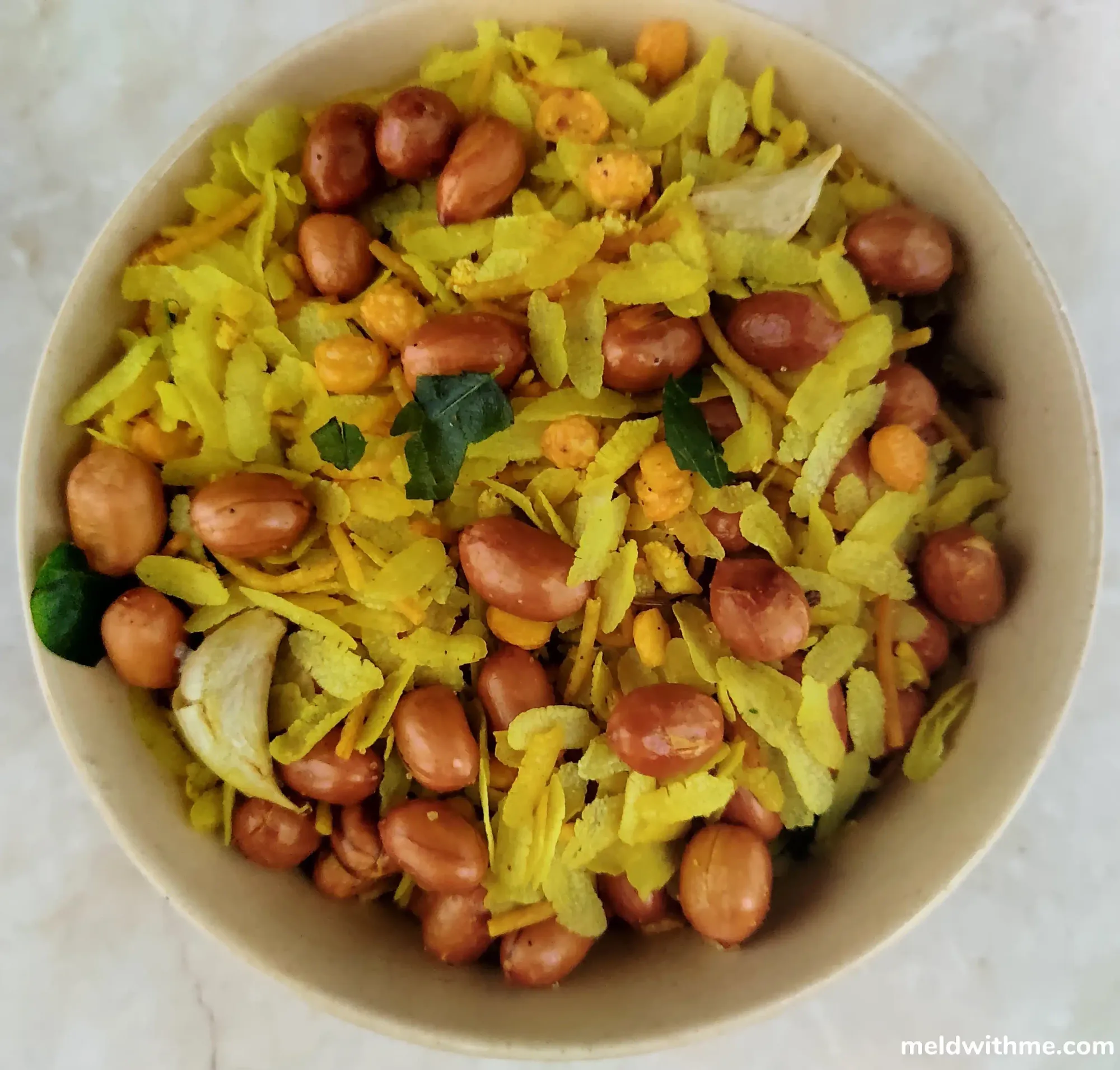 💡
Kindly Subscribe to our Youtube Channel by clicking on the Subscribe button below